Learn the easy way from our 1000+ DMS implementations
We've helped more than a thousand practices implement new document management systems (DMSs). Through that experience, we've learned that you can implement your DMS using three simple stages. If you're already on top of the first and second stages of implementing a DMS — discovery and migration — let's get into the third stage — onboarding your team!
Onboarding your team to a new DMS
It's undeniable that improved tech and processes benefit the team. 63% of North American Tax and Accounting practices have reported that technology increases staff engagement and morale. The challenge at this stage is managing change until you're able to fully realize efficiencies from your DMS. We'll touch on some ways to make the process easier.
Attend training sessions and share with your team
At this point, you're probably pretty comfortable with your DMS and may be feeling the urge to get busy. Regardless of how confident you're feeling, spending at least 3-4 hours upfront to learn the system can be the difference between short-term success and long-term stress.
Schedule training sessions with your provider so you can learn all the intricacies of the system. This way you're able to make the most of your subscription while also learning best practices. Make sure they're recorded so you have an on-demand resource you can share with the wider team. Having tailored on-demand resources makes for an easy way to share tips and tricks without having to reinvent the wheel. These videos are especially useful for team members that haven't gotten to spend a lot of time with the DMS as they'll have an understanding of how the system works before they have to use it.
Be active in the first couple weeks
Keep up the momentum and you'll be able to absorb the 20% of value loss which occurs post migration. This is where the project champion should put their 'hype man' hat on to encourage staff to experiment with their new system and get up to speed as quickly as possible. This could include sending out weekly tips and tricks emails to break down information into bite-sized chunks, creating a weekly leaderboard of staff that are the most engaged, or simply scheduling team meetings to have a Q and A or run mini tutorials. As long as there's plenty of buzz around the change in your first couple weeks, you'll be able to have an open dialogue with your team.
Frame the change positively and restate the value of your DMS
It's much easier to undertake a digital transformation project when you understand the 'why' behind it and when to reaffirm it. During the initial weeks of onboarding there's bound to be a bit of confusion and frustration amongst team members. To counteract this, your project champion should frame the change as something to be excited about. It's possible that it'll take time to realize the full ROI from a new DMS but in the meantime there's plenty of efficiencies you can find immediately. Identify some quick wins for your team such as using an advanced search to find a file or auto-saving an email into your client folders. Doing so will keep the 'why' front of mind for your team and have them thinking about the possibilities of the DMS instead of the initial teething period. In the long-term you'll see the benefits, till then a bit of patience and positive reinforcement will earn team buy-in.
Timeline to get to ROI ASAP
The best DMS providers will guide you through a three-week action plan: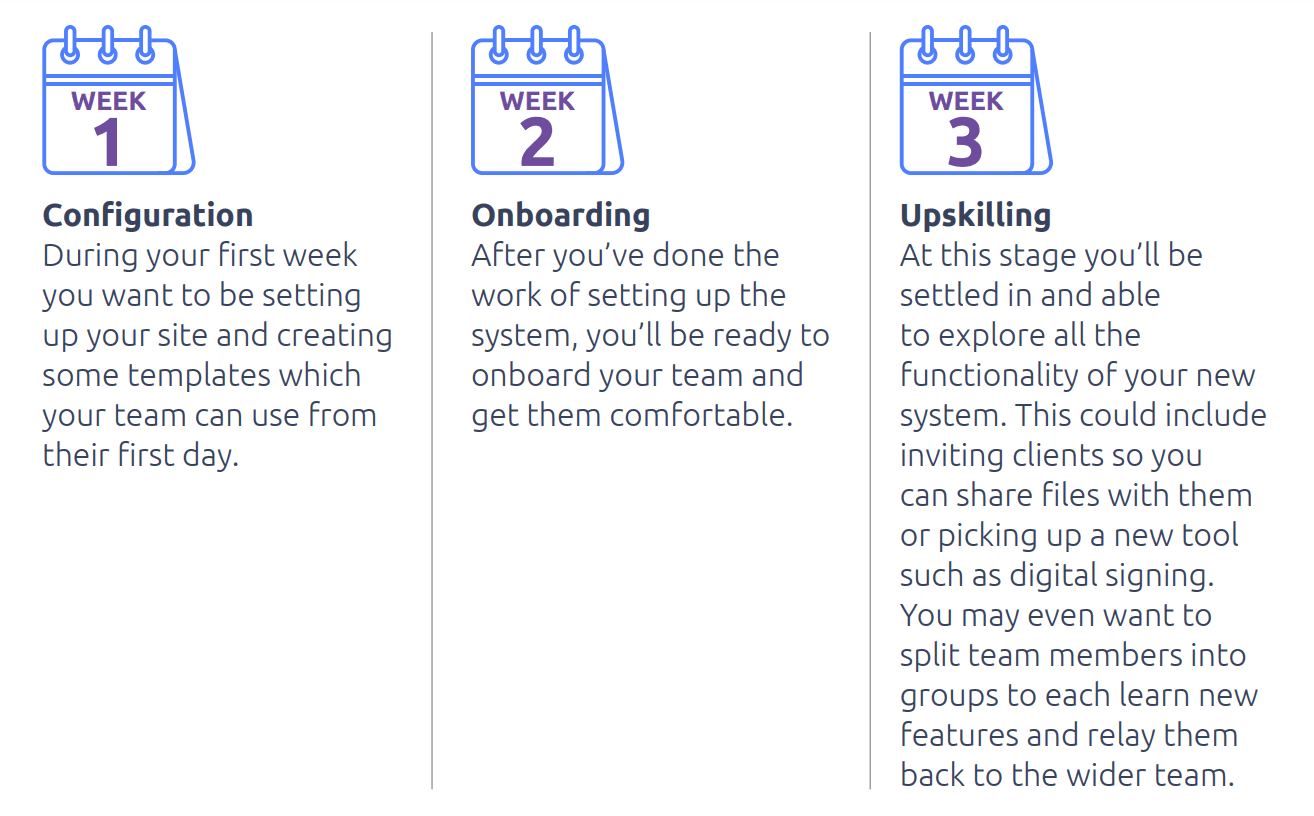 The Do's and Don'ts of implementing a DMS
Implementing a new DMS can be as easy as one, two, three. Get our complete guide with all three stages: discovery, migration, and onboarding your team. As an added bonus, the guide also has case studies.