Cloud-based
document management
Store and edit all of your files in one place using SuiteFiles' cloud based document management system. Create document templates and automatically save documents into SuiteFiles from a number of sources.
One place to manage documents
Share, edit & collaborate with cloud document management
Share folders and files in the cloud without making copies and co-edit alongside colleagues on Word documents, Excel spreadsheets, or PowerPoint slides all at the same time.
Never lose work
Our cloud based document management system will auto-save your edits with the option to review version history and restore past copies as you like. Access documents offline and have them sync to the source.
Book a demo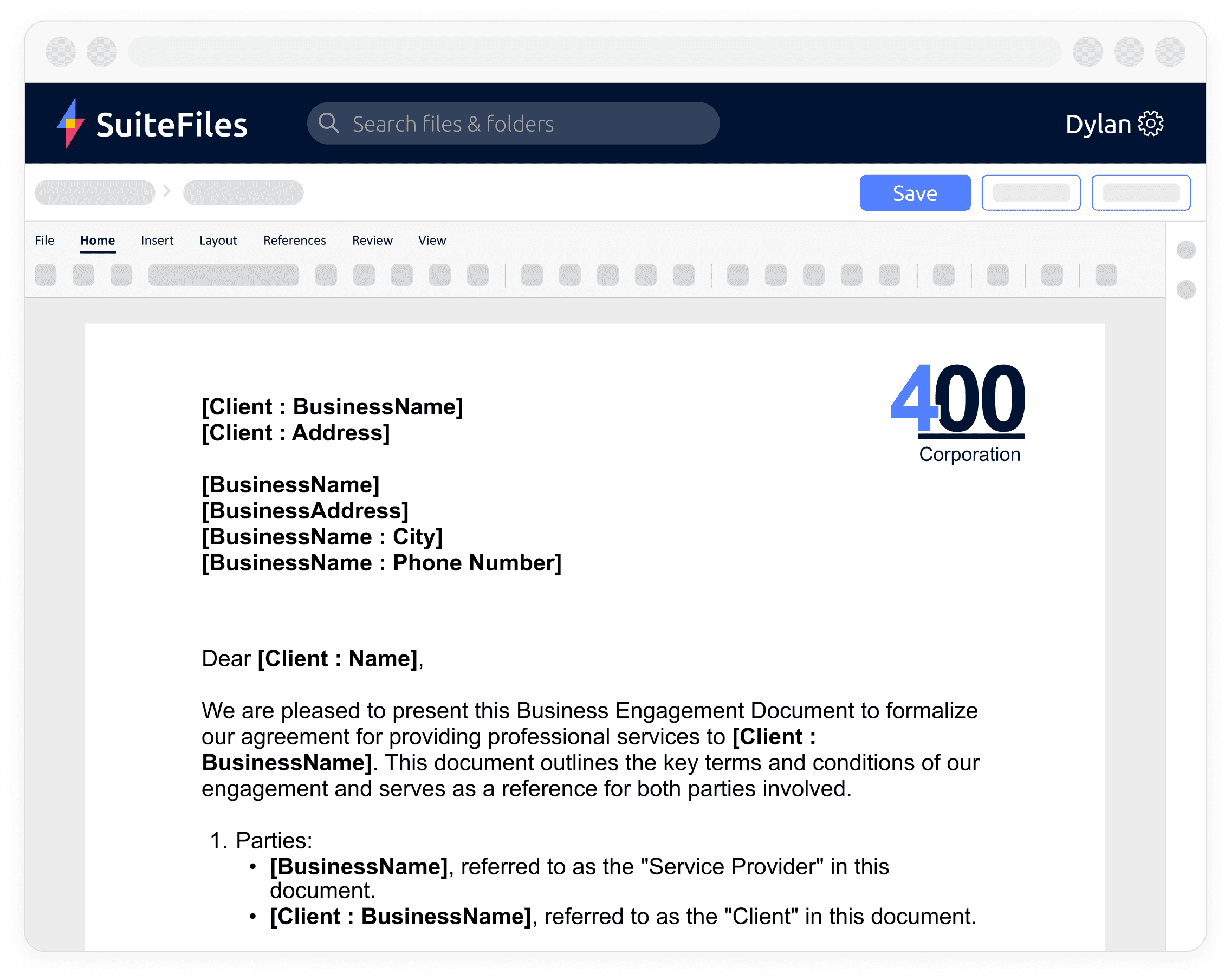 Improve workflows with templated document generation
Document management automation
Set templates for standard documents, which populate with data from our integrations with Xero, Karbon, QuickBooks Online and more. Never manually type an engagement letter again!
Manage document templates
Organize your templates by categories such as letters, onboarding, and more for easy navigation. Upload pre-existing templates into SuiteFiles to get busy straight away!
Browse more time-saving tools
99.6% of our clients stay with us for years. Here's why…
SuiteFiles saves us hundreds of hours each year and 80% of our previous document management costs.
Marius Fourie
North Advisory
Simply put – SuiteFiles is awesome.
Hamish Mexted
Convex Accounting
All I need to do is choose my template, click confirm and I've got the next five financial years worth of folders for…
Anthony De Filippis
Amplify 11
Clients really like the fact that it's a secure space where they can transfer documents back and forth.
Kimberly McLaren
Kimberly McLaren CPA
Everyone loves using it and we get the same feedback when people come into the firm.
Ben Roberts
Roberts Cowling
SuiteFiles takes the worry from our former mishmash of solutions and lets us go and do what we do well.
Warwick Jackson
Fox Group
View our case studies