Streamline
task management
Send tasks to colleagues for an easy follow-up process. Request changes to a document, an upload, or a simple task, then instant message within SuiteFiles. Have your colleagues click complete when done!
Integrated task management to work efficiently with your team
Faster approval processes
SuiteFiles' task management features allow you to send review-ready documents directly to colleagues along with a subject line and due date. Once reviewed, they can mark as approved to get your work in the hands of clients quicker.
Action feedback
Document management software with integrated task management for easily exchanging details over SuiteFiles' in-built chat and gathering feedback within the document itself. No need to go searching through emails or direct messages, every task sent comes with context and collected feedback.
Book a demo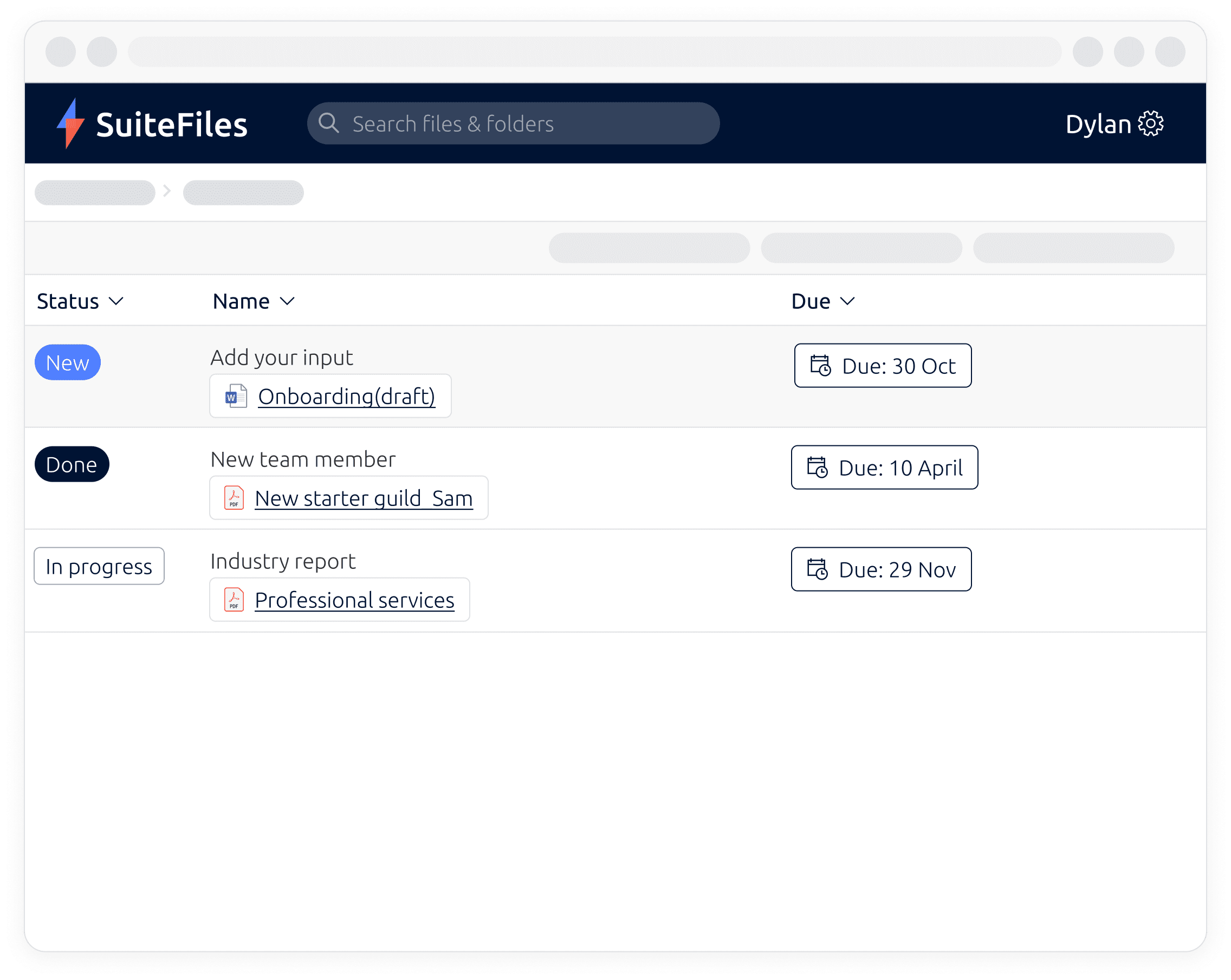 Track project and task progress
Stay on top of your to-do list
Employee and client task management to oversee all your tasks, as well as any you've sent to colleagues or clients. Filter your to-do's by status, due date, sent to/by and more to prioritize the big jobs and prevent bottlenecks.
Track & notify
Task management within SuiteFiles software allows you to track tasks from creation to completion! Receive in-app notifications such as messages from collaborators and approvals on completed work.
Browse more time-saving tools
99.6% of our clients stay with us for years. Here's why…
SuiteFiles saves us hundreds of hours each year and 80% of our previous document management costs.
Marius Fourie
North Advisory
Simply put – SuiteFiles is awesome.
Hamish Mexted
Convex Accounting
All I need to do is choose my template, click confirm and I've got the next five financial years worth of folders for…
Anthony De Filippis
Amplify 11
Clients really like the fact that it's a secure space where they can transfer documents back and forth.
Kimberly McLaren
Kimberly McLaren CPA
Everyone loves using it and we get the same feedback when people come into the firm.
Ben Roberts
Roberts Cowling
SuiteFiles takes the worry from our former mishmash of solutions and lets us go and do what we do well.
Warwick Jackson
Fox Group
View our case studies