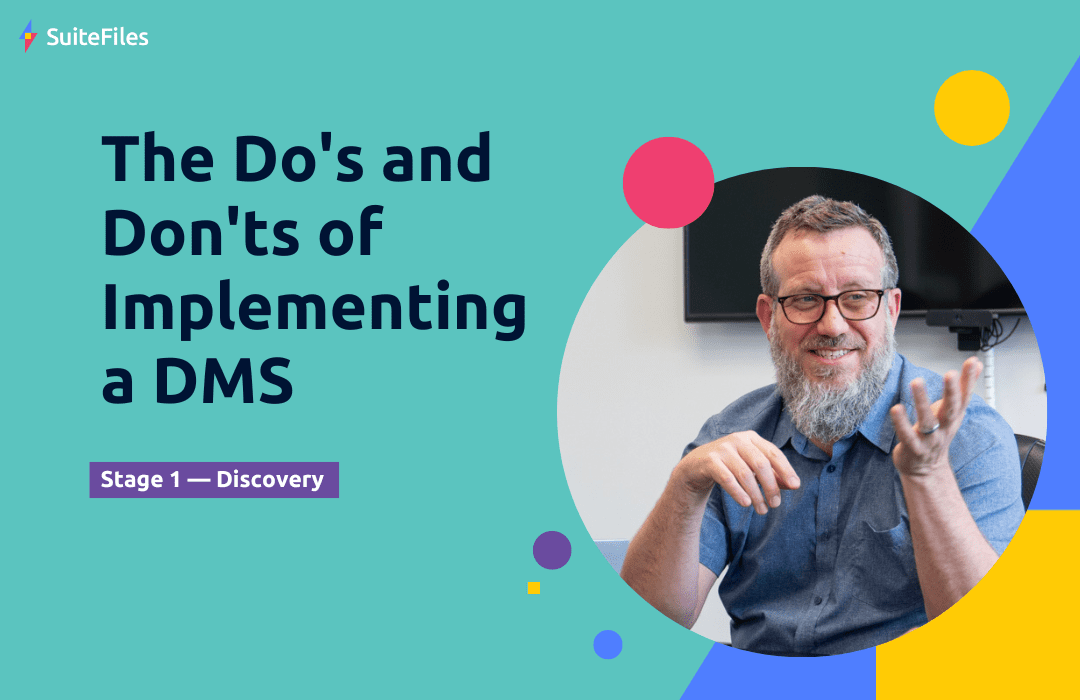 What we've learned from 1000+ customer implementations
When implementing a document management system (DMS) there's a fair amount of pressure to get it right the first try. While some may discount document strategy as a tactical to-do, missing the mark on your DMS program risks clients and staff being unable to access critical files, and can dramatically reduce the efficiency of your day-to-day operations by as many as ten hours a week! All of which is the opposite of what you're trying to achieve.
This DMS nightmare scenario is sadly all too common. In fact, McKinsey reports that 70% of digital transformations end in failure (which is really what you're doing by modernizing and digitizing your document management tech stack).
A failed transformation project then has a domino effect, creating stress for staff that are stuck in the middle and for practice owners processing the hit to the bottom line. In fact, the average cost for scaling back a digital transformation project came to $4.6 million last year.
Now let's be clear — a couple scary statistics shouldn't make you shy away from your projects. And there's even scarier statistics about not attempting to transform at all.
There is a right way that your practice can successfully deliver on DMS goals. What you need is the right framework in place to ensure your program delivers the outcomes the business is relying on.
We've seen 100's of practices (and 1000's of teams) successfully move document management systems with minimal downtime and disruption. You and your team can achieve the same success with simple steps for implementing a document management system.
Ready to get started by learning about discovery (the first stage in implementing a DMS)?
Discovery — finding the right DMS
The discovery stage involves everything from identifying your problem to finding solutions. Avoid the temptation of going straight to research and instead start by understanding the difficulties your practice is currently having. From there you can choose the most fit-for-purpose solution. Let's look at the steps in the discovery journey.
1) Understand your current processes – where are you losing time and what's the cost?
Finding the best solution for your accounting practice requires an understanding of your current document workflows and why they are inefficient or unsuitable for long-term effectiveness.
Begin with the stages of the document lifecycle:
1) Creation
2) Approval
3) Storage
4) Distribution
5) Retrieval
From there, you can identify which stages are slowing you down. At this point, you may want to quantify the cost these processes are incurring for your practice. For example, if the retrieval stage is slowing you down you might want to figure out how long it takes for your practice to find documents. Figuring this out can be as simple as sending a survey to your team and conducting exit interviews so you can identify whether inefficient processes are a key reason your staff leave. You'll then have a clear understanding of the issues you're facing and the subsequent cost on your practice. This'll come in handy later!
If you're not sure where to start, try our quiz to identify where you could be losing efficiencies.
2) Set criteria for your next system – what are the non-negotiables that'll take your practice to the next level?
At this stage, you're going to be evaluating your options and choosing which systems to sink time into. Before you start your research, establish the criteria that need to be met in your next system. These will be the determining factors in choosing one solution over another. For example, if ease of use is a key criterion you may be prefer a folder-based system over one that uses the more complex metadata approach.
You'll already be aware of the bottlenecks in your practice, but you may also have aspirational goals that a new system could meet. Your job is to prioritize these decision points and choose for fit over functionality.
Here are some popular examples of key criteria for choosing a DMS:
• User friendly interface so that files are easily accessible and staff can use regardless of technical ability
• Enterprise-grade security including features such as secure sharing
• Integrations with apps in existing app stack to provide one source of truth
• Ability to scale with practice as more clients and team members are brought on
• A cloud-based system which costs less than having a server
• In-depth support from provider so onboarding can go smoothly and your team are able to get quick assistance when necessary
3) Consult your network – getting the inside scoop on your top options
Once you have an idea of the type of system you're after, best practice is to consult with other smart brains in your network. This doesn't have to be a heavy lift. Begin with an informal reach out to a peer or simply post on an online community group. Our customers recommend this approach for getting the market's perspective on the product you're considering. This gives you access to direct feedback that would only otherwise be available on review sites such as G2 and Capterra. Taking this step will shorten the research process and give you a higher level of trust with the provider you ultimately choose.
4) Make the most of your free trial – ticking all the boxes
Here's where you get your hands on your preferred option. Remember: You will only get out of a trial what you (and your teams) put in. In other words, if you don't know what you're trying to test, the trial will likely be unproductive. Make sure you're going in to test your key criteria first-hand and experiment with any working assumptions about what the system can do. Do this using simple goals like creating a document template or sharing a file with a colleague. Taking these bite sized steps will make the process more manageable, removing the stress of testing the many workflows your practice may have.
Advocating for your solution:
As with most significant changes, you'll have to field questions about the system you've chosen so the entire team can be onboard with what comes next. Here are some conversations to prepare for so you can move forward swiftly with your project and not be held up with questions from staff.
Is our current system really that bad?
Remember that point earlier on re. quantifying costs from your current system? Those stats will serve as a reminder of why you're making this change in the first place. It's difficult to refute changing your document management processes when you know how long it takes you to find documents and the resulting cost on your efficiency.
On top of that you might like to remind staff that not making a change could leave you behind the curve. In fact, in a survey of 540 accountants worldwide, Thomson Reuters found that 69% of respondents ranked improving current workflows and processes as a top priority. If you don't have one in place, you may lose out to competitors in the industry who are more efficient. It also helps to remember adopting and leveraging technology early contributes to greater growth.
If you're met with this question, respond with what your current processes are costing you and how you can leverage a document management system to work more efficiently and stay ahead of the curve.
Calculating the ROI for your new DMS
In this case, numbers speak louder than words. Get in touch with your provider and ask them the average time saved per staff member per week. From there, you can use these formulas (shown in USD) to calculate ROI and express the value of your chosen DMS.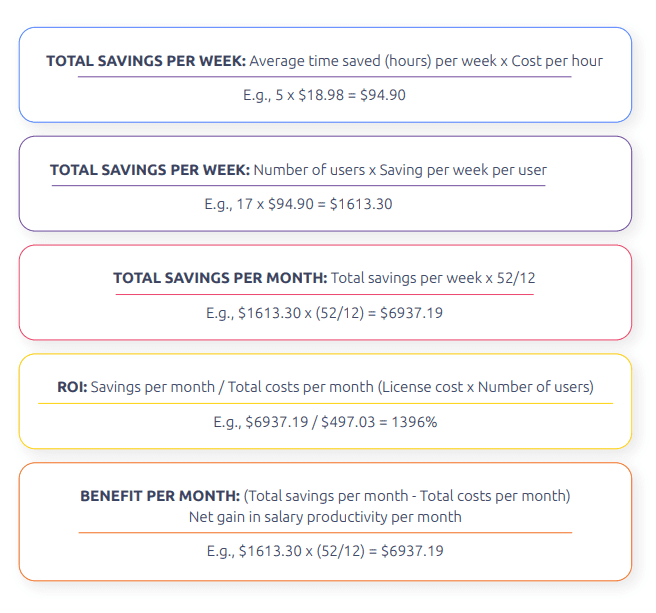 These calculations don't even include additional cost-savings such as cutting out the single-use solutions and IT management services that'll be absorbed into your DMS subscription. Plus the value of removing risks such as data errors in your documents which can result in fines for you and/or your clients and damage to your reputation, which is priceless.
What you want to get across is how you'll be able to work more efficiently during the week and meet your budget. You may even want to fold in some capacity planning and estimate how much more work you'll be able to take on with greater billable hours available.
If you're advocating to a senior colleague, you can even make them seem like the hero for green lighting your system. Moving forward, they'll be able to aid the project as executive-level support, removing any roadblocks which get in your way.
The Do's and Don'ts of implementing a DMS
It's actually pretty easy to implement a new DMS. Get the full story containing all three stages plus actual customer examples.