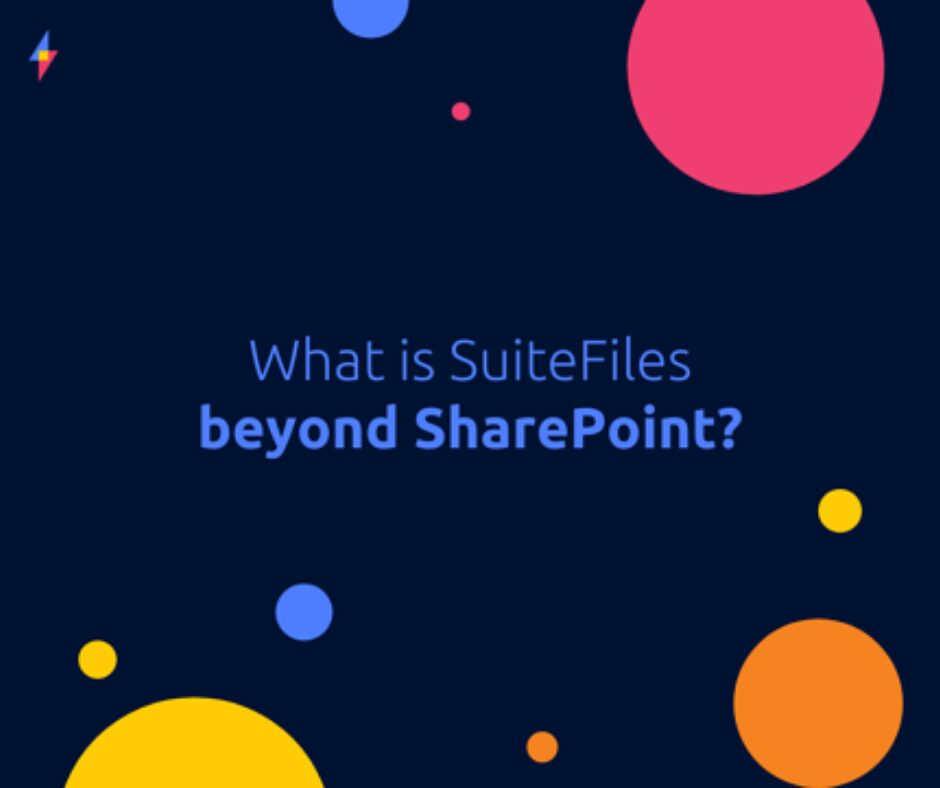 In the world of document management, it's hard to look past the giant that is SharePoint. It's even harder differentiating your product from SharePoint when it was built on top of it. As a result, when prospective customers check us out, we're met with the inevitable question: "What is SuiteFiles beyond SharePoint?"
In this post, we'll answer this question in detail and describe the ways in which SuiteFiles extends beyond SharePoint.
Can I use SharePoint as my system of document management?
SharePoint is a web-based application designed to enhance collaboration and the accessing of files online. This is a broad definition, but one which reflects the freedom firms have to shape SharePoint around their needs. If you're wondering why you couldn't just use SharePoint as your system of document management, the answer is you can. The only hang-up is that SharePoint requires expertise to configure or, failing that, time and money. But why go to the trouble of investing these resources for a bespoke document management system with the same functionality as existing, less costly alternatives?
How does SuiteFiles extend beyond SharePoint?
What do we mean when we say SuiteFiles is built on top of SharePoint? Just how admins configure SharePoint for their clients, we've configured SharePoint to fit the needs of medium sized professional services firms like accounting practices. The result is a document management system with an easy-to-navigate interface crafted by some of the best visual designers around. As you create and store files, you can be assured that they're safe under Microsoft's renowned security. This includes access to multi factor authentication and data loss prevention as well as auditing and logging security measures. Not to mention, you'll be able to enjoy seamless integration between SuiteFiles and Microsoft applications like Office and Outlook. For example, creating email templates and auto-saving your emails in a shared folder.
What makes SuiteFiles unique?
We have a lightning bolt in our logo. Also, we've built features in-house in accordance with the needs of professional services firms.
Signing
SuiteFiles has set itself apart with features like document signing which replaces the laborious manual process of printing -> signing yourself -> scanning -> posting to your client -> then physically filing the client signed version.
SuiteFiles also improves on the inefficient digital process of creating a PDF -> digitally signing -> emailing to your client -> then saving the client signed version in the correct folder.
Our signing process all happens within SuiteFiles from creating and signing the PDF, setting automated reminders to sign for your client, and having the client signed version be automatically filed into the right folder.
PDF tools
Let's get into our PDF features! Within SuiteFiles (i.e. without having to open yet another app), you can use all of our PDF tools. Want to call attention to particular areas of your PDF so readers don't miss them? You can add 'sticky notes' and 'stick' them anywhere you like. You can also add stamps, highlight, draw, and overlay shapes. SuiteFiles also allows you to merge PDF files, reorder pages within a PDF, and rotate pages.
Collaboration
Tired of enormous email threads? We've created a task feature which allows you to set tasks with clients and colleagues and chat back and forth without the formality of email. We've even created a connect feature which allows you to send and receive sensitive documents from your clients without an external portal.
Integrations
In addition to our in-house features, SuiteFiles has built integrations with some game-changing apps like Xero Practice Manager and Karbon. Our partnerships with AccountKit, ATO Smart Docs, ATOmate, CAS 360, FuseWorks and more allow you to shed inefficiencies by automating time-consuming tasks. But this is only scratching the surface, hear more about SuiteFiles' integrations.
On top of providing simple document management, the SuiteFiles team is always looking for ways to make our clients' lives easier and their firms more productive.
What is SuiteFiles Beyond SharePoint?
SuiteFiles builds on SharePoint to provide professional services firms with a fully integrated document management system supported by a bevy of time-saving features. Basically, we've taken SharePoint's standard document storage then pulled in your client data via our integrations, built up document generation and approval workflows, and optimized client experience.
Hear from one of our customers Resource Accounting.