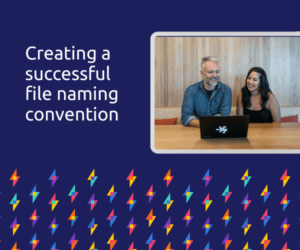 A slick filing system sits at the heart of any successful project or organization. But it doesn't happen without some careful consideration around file naming conventions.
While we all have different ways of organizing things so they make sense to us, inconsistency in a business will cause inefficiencies and put a strain on productivity.
The organizational system that you choose will influence your ability to find files, and to know what their contents will be. It helps to avoid roadblocks in workflow, communication and project deliverables. A systematic, logical filing system will also deliver the stability and reliability that your business will need as it scales.
What's in a name…ing convention?
A file naming convention is a framework for naming your files in a way that explicitly describes what they contain, and how they relate to other files.
It groups similar information together, making it easy and quick to find what you're looking for, while also helping others better navigate through your work. Because consistency is key, a naming convention gives you a common language that your business can use when referring to files and their locations.
Developing a file naming convention
The idea of going back and re-naming historical files is daunting, and actually in most cases, will be unnecessary. It is however worth the investment of time and effort to better establish consistency going forward.
Begin by choosing a landmark from which to start — perhaps a new project, a new financial year or fiscal quarter — wherever it makes sense to your business to start adhering to a new filing system.
Then, determine what information about content is most important for your business to include. This will vary depending on your operations, but could include:
Content title
Date of creation or modification
Modification
Project name
Client name
Type of data
Each business will have its own preferences and operational considerations. And while there are no hard and fast rules around file naming, there are some best-practice principles that you can follow that will contribute to a smooth-running system.
Here are our recommended do's and don'ts:
DO'S
Make it informative – Include enough elements in the name to make it immediately identifiable, but avoid using too many so that it limits discovery or understanding.
Use dates – Dates work well for multiple versions of a document and are natural identifiers because they will fall in chronological order when sorting. The best designation for dates is YYYYMMDD.
Use leading zeros for clarity – If using sequential numbers, use leading zeros to ensure files continue to sort in sequential order, for example, 001, 002… 010 etc.
Be consistent – Maintain a consistent format, for example, starting with dates, as files will be sorted based on the first few components.
DON'TS
Be too general– File names should make it obvious what the file is and who it is for, and be logically aligned with your business operations or processes.
Use spaces or other characters – Avoid using special characters. Some software will not recognize spaces so use underscores, hyphens or camel case (where the first letter of each section is capitalised) instead.
Make file names too long – Long file names can become unwieldy and difficult to remember. Note that SharePoint has a URL character limit of 260 characters and 128 for file or folder names. Opt for meaningful abbreviations where necessary.
Free yourself with folder structures
Beyond the precision of file naming, folder structures provide a hierarchical system that further streamlines file retrieval. Just as cities have addresses plotted on streets, well-thought-out folder structures ensure every document finds its right place. By structuring your folders logically — by department, project, date, or another relevant criterion — you reduce redundancy, minimize time spent searching for files, and simplify backup processes.
Find anything, anywhere with full-text search
No matter how impeccable your file naming convention or folder structure, there are times when you need to quickly retrieve a document, and you can't quite remember its exact location or name. Enter our full-text search feature. This allows you to search for specific text within your documents, ensuring you can always find what you're looking for, regardless of where it's saved.
Think of it as your safety net. In a vast digital sea of files and folders, our full-text search ensures you never lose sight of the information vital to your business operations. Especially in times of urgency or unforeseen circumstances, having this feature can be the difference between seamless operations and lengthy, frustrating searches.
Communicate internally
A system only runs smoothly if it's followed consistently by everyone. Ensuring education and maintaining awareness across your business around file naming conventions is critical to its success.
Document any necessary conventions so that all employees, existing and new, have a reference point they can call on. An option is to include a readme.text file within the directory that explains naming conventions, as well as any relevant abbreviations or codes.
Change doesn't happen overnight, but the long term benefits of a logical, systematic naming convention will be worth the time and productivity efficiencies it delivers to your teams going forward. It won't be long before naming conventions become second nature, as the ease, convenience, and confidence of a smarter system becomes motivation in itself!
By marrying file naming conventions with an intuitive folder structure and the safety net of our full-text search feature, businesses today are better equipped than ever to handle the demands of a digital, decentralized world. Whether you're working from the office or remotely, these tools ensure that your file management system remains robust, efficient, and reliable.
Learn best practice for folder structures!
We've identified the top folder structures used by accounting professionals.
Download our guide for ready-to-use templates and more!
Fill in this form to receive your guide via email.