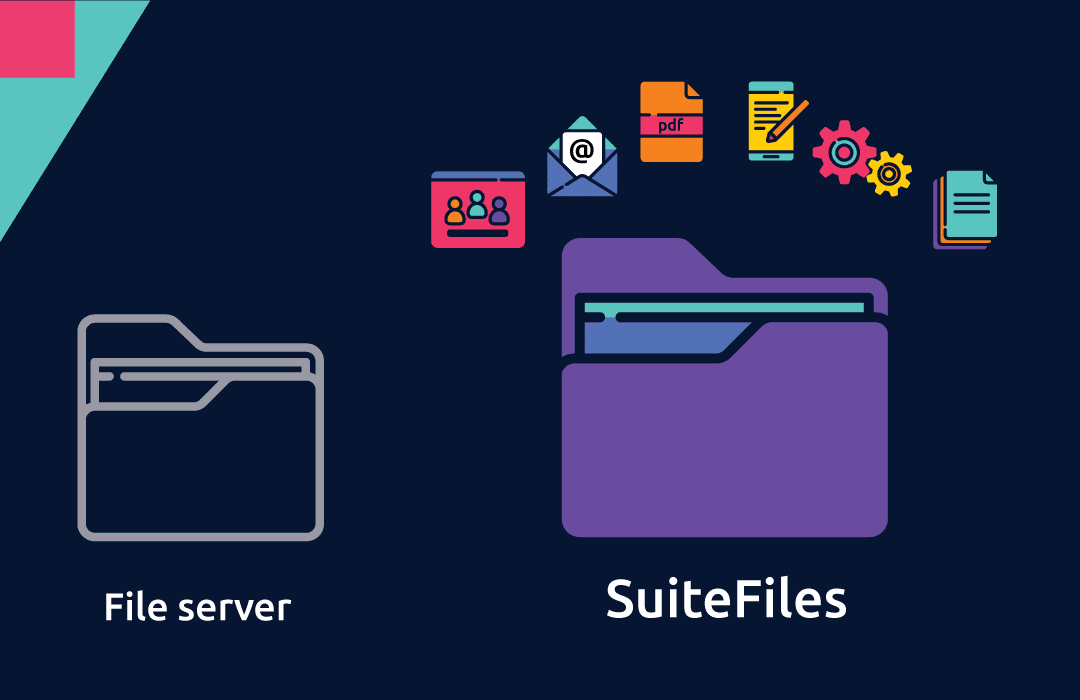 It's no secret that businesses are losing time with the way they handle documents. A cross-industry study by Nintex found that 39% of surveyed employees identified broken document processes internally. But what did they mean by document processes? Taking care of documents ranges from locating and sharing documents to approval requests and even completing and filing new client paperwork.  
What the other 61% are likely benefiting from is a deeper investment in their document processes. Think of it this way — are you simply saving documents to a secure location or are you able to do that and more with a management system that can handle every stage in the document lifecycle? 
Let's go for a deep dive with a breakdown between an often-confused pair of terms: document storage and document management.   
Document storage
Think of solutions like Dropbox, Google Drive or OneDrive – they're suited to smaller businesses with limited complexity and offer simple workflows for processing day-to-day jobs (e.g., organizing documents by saving them to a central location). 
Basic storage features include:
The ability to save and import documents 
Document storage solutions provide an easy way of saving files to a centralized location. This includes importing files digitally or scanning and saving paper files into the system.

 
Access controls
Some documents may need to be restricted to certain staff (e.g. clients' financial statements, tax returns, and bank statements). This requires access controls which can gate folders or files based on the permissions the staff member has been granted.

 
Document retrieval
Document storage solutions often come equipped with search functionality allowing staff to locate documents by typing a keyword. 

 
Document management
Document management is a broader category that covers everything from document creation to sign-off. This includes integrating with key tools in your app stack so all of your information can be surfaced in one place. The end result is faster, more efficient workflows which reduce manual work and allow businesses to scale.  
Some document management system (DMS) options include SuiteFiles, FYI Docs, MYOB DM, and Virtual Cabinet. 
Management features include:
The ability to save and import documents
This includes automatically filing documents from external apps – for example, a practice management app like Xero, compliance apps like BGL CAS 360, and more!

 
Security
On top of access controls, your documents will be protected with advanced security features like data encryption, version management, and auditing functionality. 

 
Document retrieval
Expect keyword search as well as full-text search and filters to get granular with your document retrieval. Depending on the system you choose, you may be using folders or metadata to navigate through your files.

 
Increased collaboration
View, edit, and comment on documents with colleagues to make actionable feedback easier to see. 

 
Which option is best for you?
Choosing between document storage and document management systems comes down to a few factors. 
Consider where you're receiving files from and the volume of files that you manage. If it's possible for you to collate all of them without spending too much time, then a storage solution should be your go-to. Otherwise, a management system will be your best bet to organizing documents and staying up-to-date with your information. 
Another important factor is the size of your business. Do you have a large staff that are creating, sharing and filing documents? If so, you'll likely require a document management system that can keep all of their interactions tidy instead of having to manually organize them yourself.  
Finally, think of the interactions you have with clients. Are you comfortable requesting files and gathering signatures in person or via dedicated apps? Or do you require a solution that can complete those actions more efficiently and without jumping tabs? 
As you may notice, document storage solutions are able to centralize your files but also require manual effort which can soak up time during the week. To save time and improve your document processes, choose a document management system which is easy to use and fit for purpose. 
Simple to use document management
When choosing a DMS you need a solution which can deliver the value you're after and help you hit the ground running.  
Think of SuiteFiles as a helpful new team member. Our straight-forward software prevents admin tasks from taking away your precious time. With automated digital signing and document collaboration tools, your time for concentrating, creating, and clocking off is protected. 
For Jorde Chambers at FCAA, SuiteFiles "Simplified our processes and has dramatically reduced the amount of space we need in our office". 
Evaluate SuiteFiles for yourself with our comprehensive info pack!