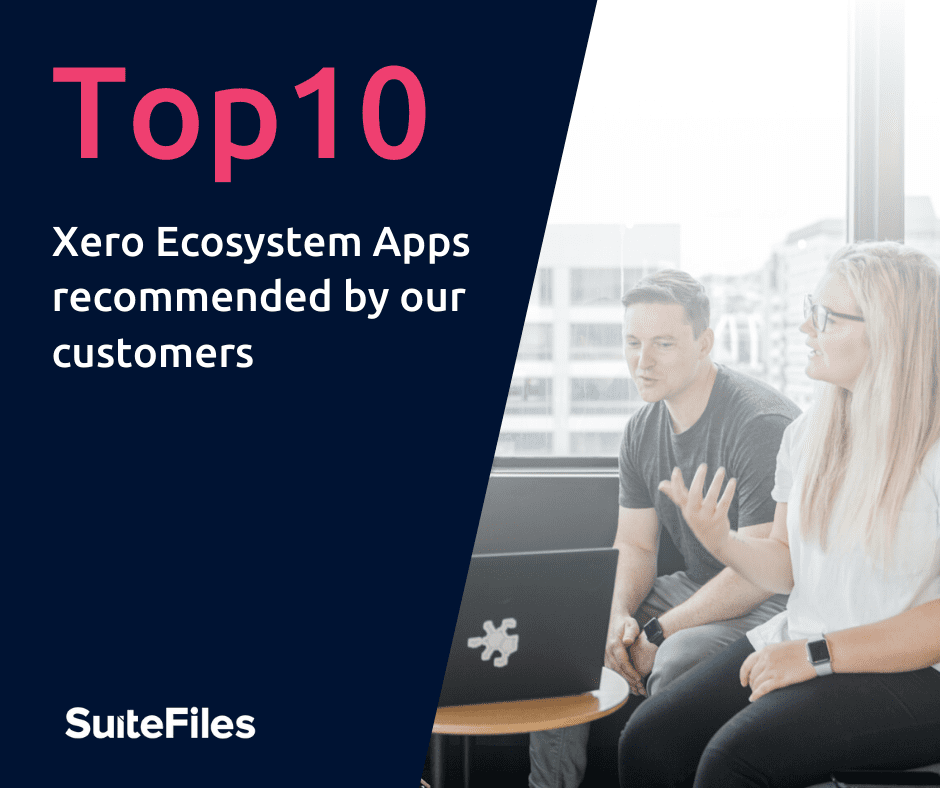 The Xero app store now has over 1000 Xero connected apps in it, so working out the right ones can be at times challenging. We've been lucky enough to work with Xero and be a part of their app partner crew since 2012. To celebrate 8 years as an app partner, we asked some of our customers for their favourite Apps within the ecosystem to use – and here are the results. The 10 most popular apps recommended by our customers (in no particular order)
Given Xero Practice Manager is the most common integration into SuiteFiles, it was guaranteed a spot on this list. XPM makes job management, time tracking and client management effortless. It acts as the single source of truth for many firms, who regularly called out that it was the glue that pieces together all of their technology. Want to see how SuiteFiles and XPM work together? Check out this demonstration here.

Practice Ignition was easily one of the most popular responses, perhaps because, as one customer put it "It's basically awesome". From creating beautiful proposals through to automating payment and XPM job creation and management, Practice Ignition plays beautifully with Xero (and SuiteFiles), and makes it easy to get paid faster.

Both of BGL's products, CAS360 and SimpleFund360, were highly recommended. Both are designed to save accounting firms time and money through helpful reminders and automations around corporate compliance and Self Managed Superannuation Funds. Customers were also quick to point out that their support team are awesome, and that both products are consistently being updated to add even more features, especially since they launched CAS360 in NZ.

Receipt Bank is an automated receipt scanning app. It saves accountants and bookkeepers hours of time on data entry and expense management. The user interface was mentioned multiple times as easy-to-use and intuitive, and people loved the reminder settings, where you can automatically remind clients to send through their receipts.

Reporting is top of mind for many firms at the moment, and this was obvious with two apps coming through in the results. Fathom users loved how easy it was to build beautiful custom reports that their clients actually understood, and have found that the budget and scenario analysis tools had been extremely popular over the past few weeks.

Spotlight is also a reporting app, again being highly recommended by its users. The visual dashboard and ability to use Spotlight to create a range of reports, from cash flow through to board packs, makes it a highly versatile tool, and our customers mentioned that it often changes the depth of the conversation they can have with a client.

NowInfinity is a 5 in 1 platform that allows you manage your corporate compliance easily. Set up legal documents, create a register of trusts, or use their corporate messenger service for ASIC lodgement details, annual statements and more. NowInfinity is easy to use and our customers love the continual growth of the product!

Like a swiss army knife, but for accounting tools. AccountKit is a suite of useful accounting and bookkeeping tools made to automate accounting tasks and centralise client information all in the one place. Their mail and correspondence register is incredibly popular, and their Div7A and inter-entity loans calculator were also heralded as 'game changing'. Plus, they act as a window in your Document Management System, which we obviously think is very cool.

Now a Xero product, Hubdoc allows you to extract key information from your receipts, invoices and bills, removing the need for data entry and filing. You can also create rules as to how documents are received and processed. Hubdoc is also included in the current Xero Business Edition plans, making it free to use if you're already using Xero.

As far as CRMs go, Hubspot can be a powerful tool for your practice. From creating detailed workflows to automating all your marketing processes, Hubspot is a great CRM option for larger firms. The accounting firms using Hubspot said it had made it significantly easier to grow their business and manage their clients.