Looking to update your client folder structure this financial year? We've got ideas from our customers and the tool for you to automate your folder creation!
Bulk folder generation tool
Our new bulk folder generation tool allows our Super Suite customers to create folders under multiple clients at once. They can even use their existing SuiteFiles folder templates to bulk create subfolder structures.
The 58 SuiteFiles customers to make use of our new, automated bulk folder generation tool in its first 10 days created over 500,000 folders for over 100,000 of their clients! That's an average of 5 folders per client. At the lower end, some of our customers only had 1 folder per client (we assume this was a simple FY24 folder with no subfolders underneath). While, at the higher end, several of our customers created 11 folders per client. This begs the question what folder structures are our customers using for their clients?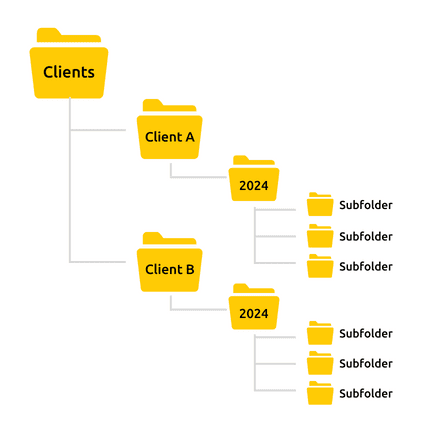 Real-world examples
According to Ashleigh Irvine, Office Manager at AKA Accounting ""I knew the folder structure I wanted under each client – Financial Year with subfolders underneath – and I already had a SuiteFiles template for that folder structure so it took under a minute to set up! The process happened automatically, and I didn't have to think about it again; 23,000 new folders were just where they were supposed to be. Bulk folder generation is a great addition to the feature set and we'll absolutely be using it again next year."
Kristal Hassos, Practice Manager at Aura Partners had a similar experience. "It was simple to use, I just followed the instructions and it took under 10 minutes to set up. I copied an existing folder structure, named it our 2024 template, and used that to replicate the folder structure under all of our clients. I did it at the end of the day, when I knew no staff would be using it*. When I logged in the next morning it was all done – over 30,000 folders created for over 3000 of our clients".
*Note: other customers have reported running the bulk folder generation while their teams were working and they encountered no issues. Their teams kept on working in SuiteFiles with no interruptions while thousands of folders were being created in the background.
Here's a typical folder structure our customers use for their own client folders. They begin with the Organization Name > Financial Year. They then add Companies Office/their country's business registry service, Correspondence, Permanent and Workpapers. Under Workpapers, they add GST or VAT, Inland Revenue/their country's Revenue Department's Reports, Source Documents and Trial Balance.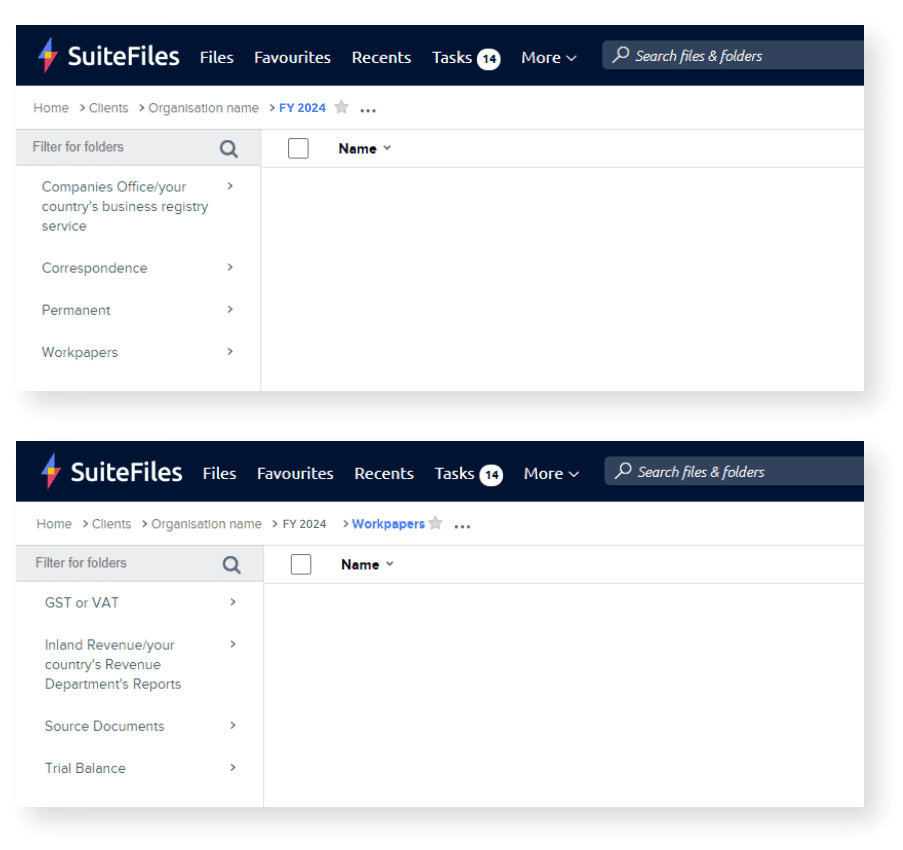 Get our comprehensive guide to folder structures
We've rounded up the top folder structures used by accountants.
Get inspiration for your next financial year's folder structure!
Fill in this form to receive your guide via email.