We started SuiteFiles to connect professional services firms with their clients for frictionless collaboration. So, the later stages of the client lifecycle are at the heart of what we do.
The client lifecyle
The full client lifecycle goes from a potential client first coming across your firm right through to them becoming a loyal client. It's commonly described as having 5 stages: reach, acquisition, conversion, retention, then loyalty.
Reach, acquisition, and conversion can be simplified as marketing and sales functions. These stages are about getting your accounting, legal, or engineering firm in front of prospective clients, having them learn more about you and your services, then convincing them to become your clients.
At that point, account management (and SuiteFiles) really kick in. From a business perspective, the retention and loyalty stages are what separate successful firms from the rest. It's in these later stages where your firm has the potential to collaborate with your clients, become trusted advisors, and grow your business by growing their businesses.
Client retention and loyalty come from the daily actions that result in new clients becoming lifelong clients. SuiteFiles can support you in this every day.
1) New client proposal

In the conversion stage, SuiteFiles can assist with document generation. By that we mean templated Microsoft 365 files auto-populated with client data from our integrations like Xero Practice Manager, WorkflowMax, and Karbon. Copying and pasting new client names, addresses, and agreed upon services into new client proposals is for amateurs! Be a pro.
Document generation actually comes into play at all of the stages and reduces your reputational risk. Templates and auto-population minimize errors that can creep in if your team are copying files then manually entering new data in overtop. Let's say you have a frequently used document that contains Client A's sensitive data. If you copy that document for Client B, your team could mistakenly leave in some of Client A's data then pass it to Client B. This leaves you needing to explain yourself to Client A and B plus the risk of legal action and negative press.
2) Client onboarding
As soon as you've converted a new customer, it's time to onboard them. Follow on from the great first impression you've made with client onboarding that shows your new client what it's actually like to be a client of your firm.
SuiteFiles can help here with:
digital client experience
digital signing

e.g. signing that new client proposal or engagement letter

client ID process if applicable in your industry
and templates for collecting information.
3) Client communication
Meaningful client communication where you're adding value to a client's business is worth every second. It might even be how you imagined you'd be spending your working days way back when you were studying for the role you're in now.
But, let's be honest, a lot of your time can be eaten up by the admin side of client collaboration. Make sure you have software like SuiteFiles on your side for centralized automatic filing of emails, saving call and meeting notes, and templates for standardizing communications where a personal touch isn't required.
4) Document creation and receipt
You'll need a secure client portal like SuiteFiles to handle all the files you'll be creating for your clients and receiving from your clients. Ideally, this will be coupled with the ability to have templates for standard client spreadsheets (e.g. workpapers in the accounting industry). Make the ease of providing and accessing files one more reason for your clients to be loyal to you.
5) Document collaboration
More clients mean more documents, lots more documents! Make sure you have software that allows you to securely co-edit documents with colleagues and clients from tracking changes in Word documents you're working on together through to leaving sticky notes in PDFs.
6) Ongoing delivery
Behind every loyal client is a team of professionals managing tasks together and completing internal reviews. Set your firm up for success with software that lets you oversee your own tasks, those you've sent to colleagues, and those colleagues have sent to you.
7) Adapting as your clients grow
Demonstrate to your clients that you can grow with them by having a folder structure that can flexibly accommodate routine changes like new financial years as well as more novel changes like your client bringing on a new child company. Folder templates will see you adapting while keeping a degree of consistency.
8) Document retrieval
Gain client loyalty by always having the information you need at your fingertips. Avoid long pauses after client questions with SuiteFiles' full text search that will turn up even misfiled or misnamed documents!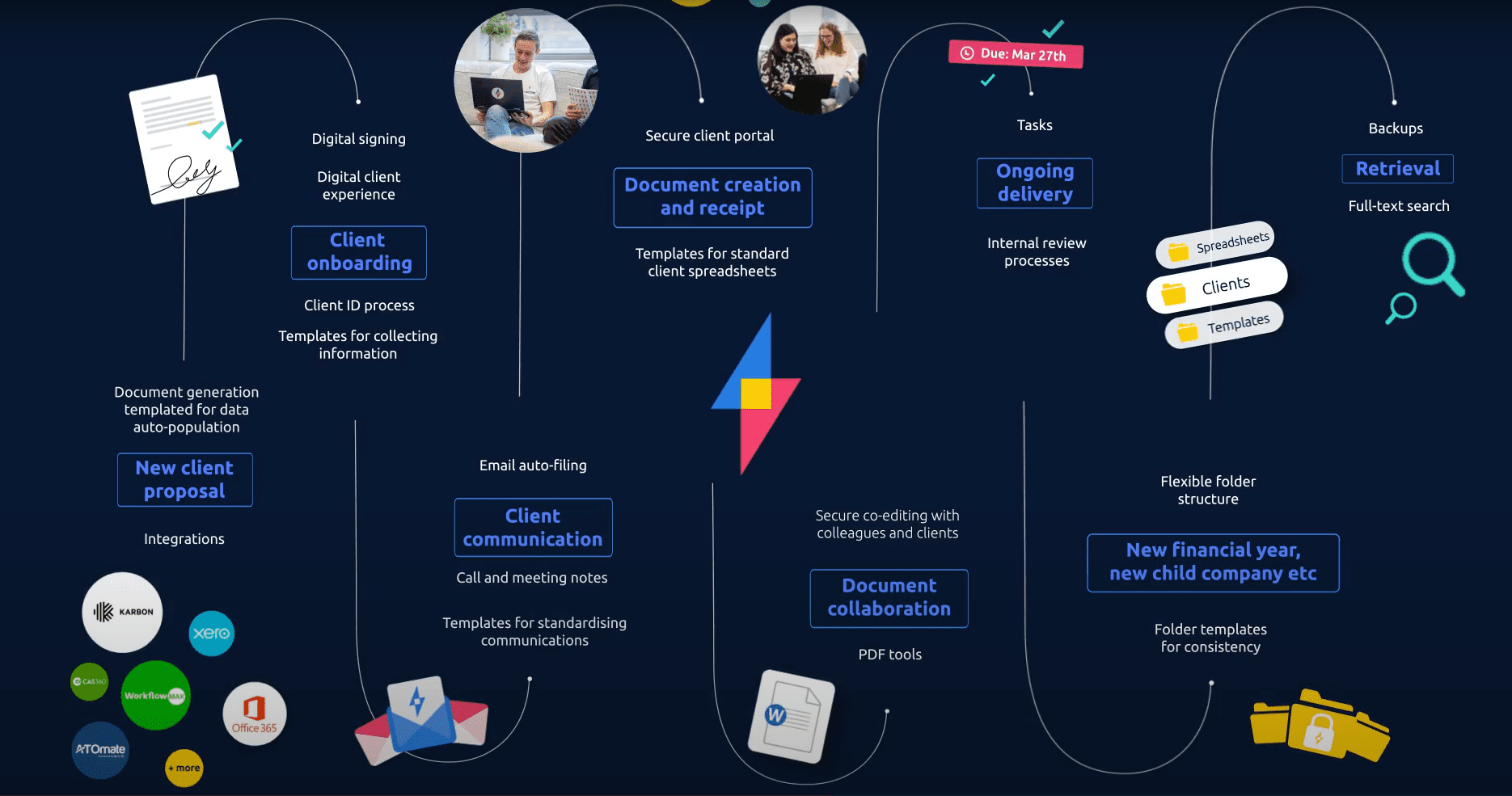 Read on to perfect client collaboration
Client collaboration is critical for retention and loyalty in the client lifecycle.
We've written a guide to help professional services firms manage correspondence, gather documentation, source accurate information, and complete the approval process.
Fill in this form and we'll email you your 7 page guide.