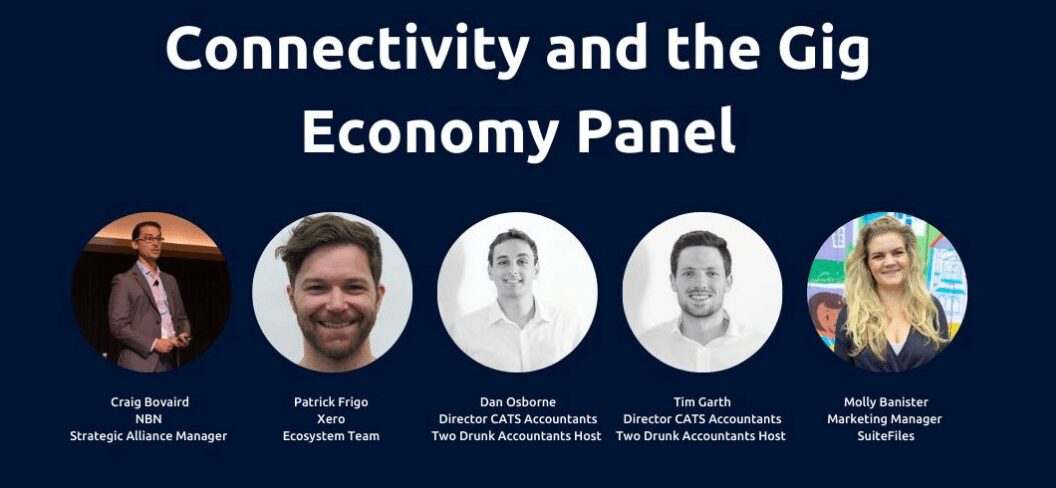 For the Accounting and Business Expo panel on Connectivity and the Gig Economy, we were joined by four special guests: Patrick Frigo (Xero Ecosystem Team), Tim Garth and Dan Osborne (CATS Accountants Directors & 2 Drunk Accountants Podcast hosts) and Craig Bovaird (NBN Strategic Alliance Manager). Here are just two of four questions on how the gig economy is changing the way we work and how connectivity is making you more profitable. Check out the video below or read on for our panelists responses!
Q: We know that Xero businesses in mature NBN regions grow revenue by two thirds more than those who are elsewhere, what do you guys think is driving this?
Craig: Those businesses are thinking digital first. When NBN first started coming out, the main reason was to reduce the digital divide. As soon as you can connect to something reliable like Xero or SuiteFiles, you understand the benefits of that investment pretty quickly. If you look back to about 5 or 10 years ago when practices were still investing in servers, these had big upfront costs and they were able to be used for about 5-6 years until practices were told they need to refresh the technology. Now practices are paying per user per month, they have the ability to easily scale up or down, and they aren't trying to recoup upfront payments. By connecting to different platforms, they aren't just crossing the digital divide, but the business divide too. Now, smaller businesses have access to the same platforms bigger businesses have. Prior this this, they were constrained by budgets, i.e. having to spend tens of thousands to access platforms, whereas enterprises were easily able to spend millions, therefore increasing the platform and connectivity gap further.
Dan: It's not just the platforms and connectivity among your suppliers, but your customer base as well. If you think about gyms in the past 6 months, their usual client base would be people within X amount of distance around their facility. When Covid happened, they had to close their doors, a lot of our clients and gyms I've seen, because of NBN, were able to now have customers worldwide because of the ability to host workouts and morning sessions – people who are nowhere near their gym are now paying and subscribing. The NBN has opened markets that they never would have otherwise been able to access.
Patrick: In my time at Xero, I've travelled around regional VIC and NSW a fair bit. An insight I've found is that the adoption of NBN in regional areas was actually a lot quicker than what we were seeing in some metro areas, even if NBN was more stable here. There was more of a need from the regional accounting firms because geographically, sometimes because of the situation and where clients were based, it wasn't practical to meet clients in person. They tried to push for being online so they could open up their addressable market to more than those who could physically access their services. It comes down to confidence, I don't live in a regional area but I know what it's like to live in an area without stable internet, we didn't have NBN and could only access one bar of reception. I couldn't do anything internet based at home and it made me realise how important it is, if you want to do anything business wise then not having a stable internet really impacts you.
Tim: It comes down to efficiency, you're going to save on costs when you use apps like Xero, small businesses can now sometimes have better software packs than big businesses. These tend to be more efficient, nimble, and easier to adjust and can help them grow their business. If you think about it, information is a great way to grow your business. Xero and the internet speeds up the way you can use information from your business to learn things and make adjustment so you can grow quicker. I wouldn't be surprised if that's why those who are using Xero and NBN have grown their businesses quickly.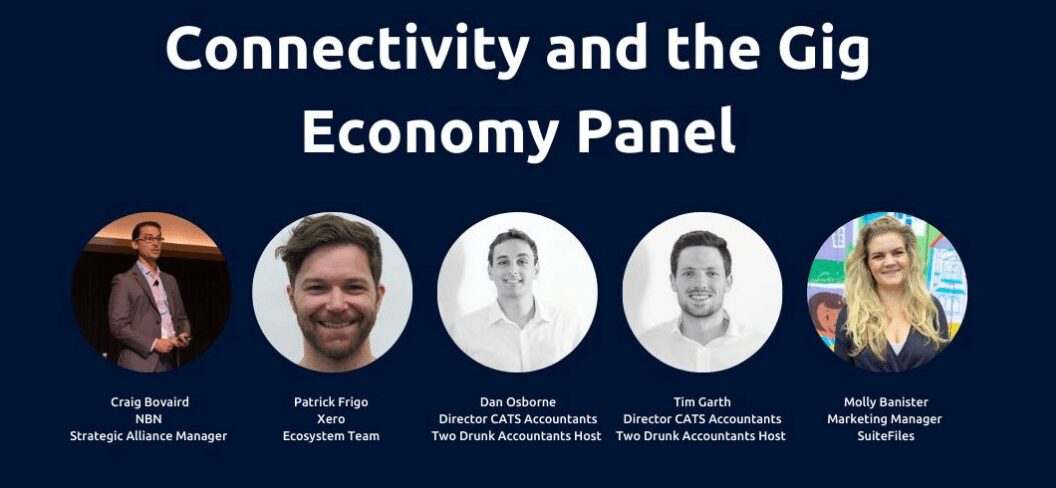 Q: How has the introduction of cloud-based apps impacted business and their customer experience? For you guys personally, Dan and Tim, what changes have they made for your business? And how has that impacted you?
Dan: It's revolutionised our business to be honest. We both started at CATS 10 years ago, and the difference between then and now is black and white, it's night and day, there's no comparison to the type of business we have now to the type of business we had then – but we're offering similar services. We're with software like Xero and SuiteFiles and we're able to offer a different type of advisory service and that alone has been a big change. The way we conduct our business has changed. A prime example, and I've said this a few times but it's big on everyone's mind, is Covid. Because of the way we'd set up our business, we had our document storage running through SuiteFiles and we had all online systems, we could just pick up our laptop, go home, and continue working as if nothing had happened. Our office was closed for a number of months, work did not stop one bit. Even 5 years ago that would not have happened, our business would have been really struggling.
Tim: I think Dan is so right there, we are lucky and unlucky that we worked in a time before Xero, where the main software you were using was all desktop based. You were used to doing things like end of year journals so that you can bring their copy of a file up to date with yours. It's nice to have that reflection every now and then, to see where you've come from to where you are now. I still think there's so far to go as well. Obviously the bookkeeping system is working awesome, internet is a huge driving force behind that but integrating more and more apps and making our client and communities business system more efficient, and able to deliver better service, is I think what everyone is working on right now – and that is the best big next step everyone can take. Covid interestingly forced a lot of people to take that step before they were comfortable to but they've probably seen how positive it is. We went to a brewery in Hunter Valley, in our podcast I joked that there needs to be an app that you put your order into and they bring your food and beers over, that brewery had it and it was a Covid related thing obviously but I was just so stoked that someone was actually doing that! I think it's a huge boom for small business and if Covid has made a lot of them see the possibility with it then that's actually a big positive to take away.
Patrick: And you know what Tim, I'm blessed because 10 years ago I was working at an accounting firm, for me it's a blessing. One of the partners at our firm always used to say "you kids have it so easy, back in my day we had one computer where we had to go and input all the journals." I say the same thing now to all the grads joining an accounting firm "you kids don't realise how good you have it." I reflect a lot on my time too, when I was in an accounting firm, it was a good 7 years ago now and it was all desktop based. What I've learnt now is that we were living in our own bubble, we did what we did and knew and that's all we cared about. I've realised now that that's a really dangerous place to be. One of my family friends, a personal trainer, she was forced to go online. Their version of going online was just what was necessary for their business. They were missing out on a lot of things they could do, I asked how they monitor their clients when they don't see them and how they know what they're doing in between sessions and let them know about personal dashboards and other technology. Two weeks later they had set up a whole system where their clients could book and pay, they were stuck int heir own ways beforehand. We're seeing that a lot now, their hands have been forced by external factors. Hopefully businesses aren't just trying to replicate what they were doing through going online and are actually thinking about the smartest thing they can do online. It's an opportunity to rethink how they can add the best customer experience.
Thank you to the panelists for joining us to chat all things accounting and tech! Check out the video above for the full panel discussion or head here to see more SuiteFiles webinars!