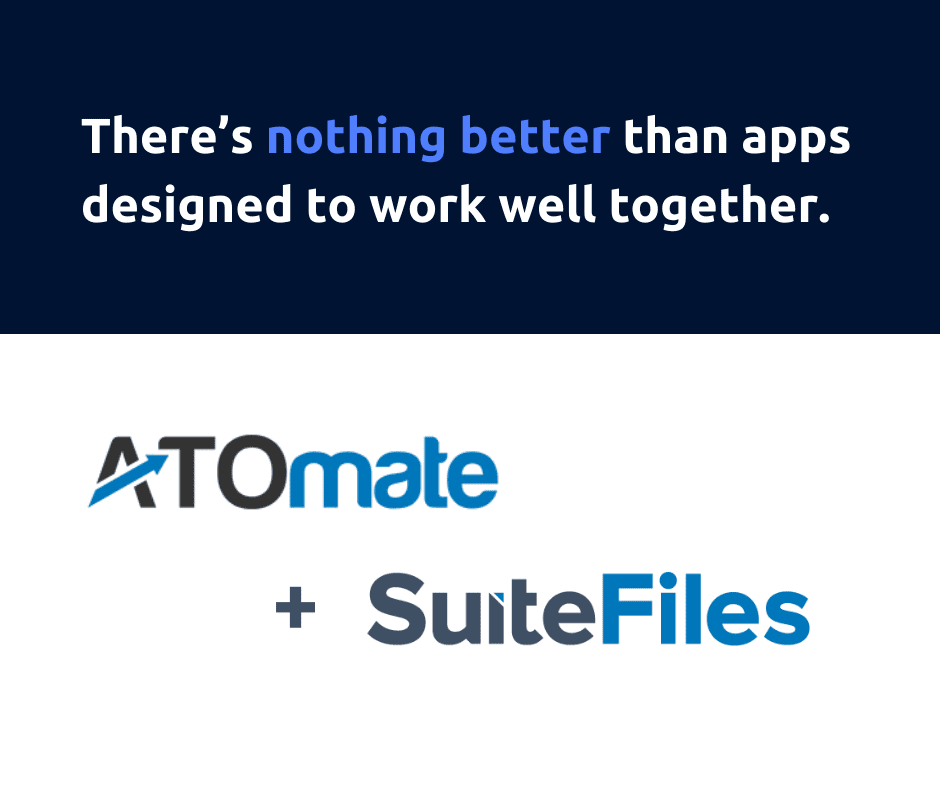 We're so proud to officially announce our integration with ATOmate!
ATOmate x SuiteFiles creates automated processes to enhance your business efficiencies. These let you collaborate with your colleagues and clients by ensuring everything is archived and everyone has access to the information they need. This article outlines exactly what our integration does and how it will improve your business.
What is ATOmate?
In a nutshell, ATOmate allows your practice to receive, process and send ATO documents.
This software allows your practice to receive documents through post or a tax agent portal. When receiving documents through post, ATO allows you to bulk scan documents into the ATOmate system and will automatically process them. When receiving by tax agent portal, you can download and ATO will automatically process all ATO documents.
How does it work?
ATOmate will identify the document type, the client, number of pages, and will rename the document to your practices set file naming conventions. From here, the document could be sent directly to the client, but most prefer some oversight first.
Your practice will receive an email letting you know there are file types ready to be approved or reviewed in ATOmate. This will sit in your dashboard until you're ready to take action. From here, you can either complete or escalate to a higher approver.
Where does SuiteFiles come in?
Our integration allows you to automatically archive documents in SuiteFiles.
Once you've allowed SuiteFiles in ATOmate, all your documents and correspondence will automatically be saved directly into set client folder structures. When reviewing documents in ATO, you can add notes for context. These notes are also archived into SuiteFiles for a well-documented audit trail. You're then able to login to SuiteFiles and view, edit, share or sign any of these documents!
For a more comprehensive view of this integration and process, check out our demo video below: