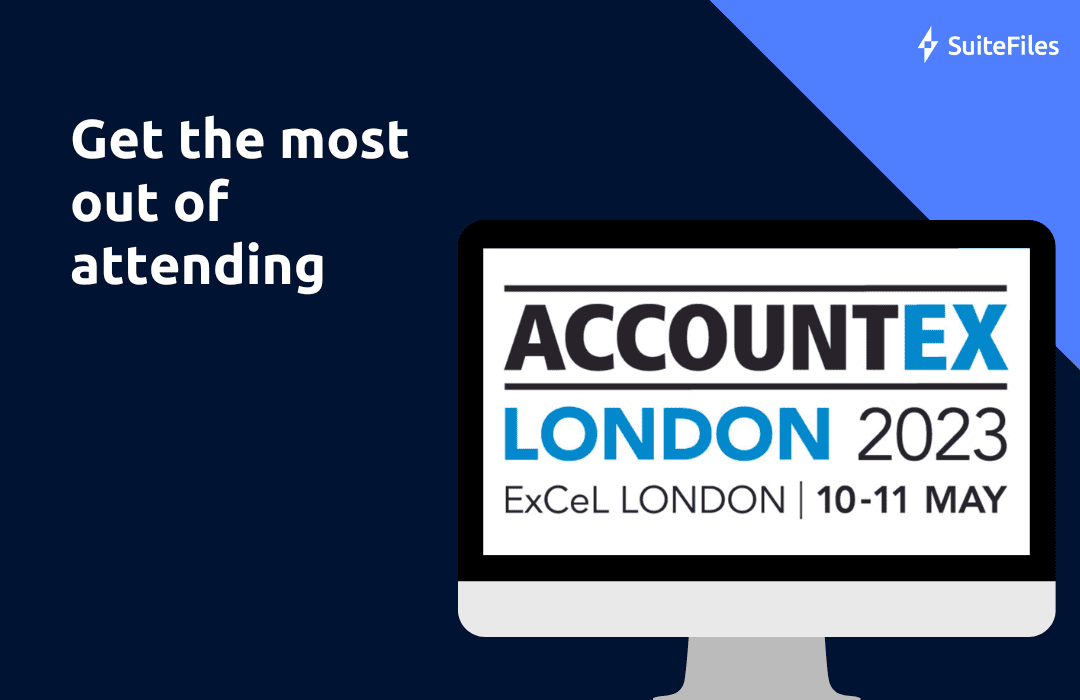 Conferences are a great chance to connect with others in your industry, gain insight into the latest accounting industry innovations, and pick up new ideas for your firm around marketing, business growth, and professional development.
But attending a conference is no small investment — so it's an opportunity that you want to make the most of. When that conference agenda lands in your hands, it can be a little overwhelming figuring out how you're going to get around all the keynotes, break-out sessions, and exhibitor stalls. And as the UK's largest exhibition and conference dedicated to accountancy and finance professionals, Accountex 2023 will be no exception.
So, if you're heading along to the event in London this year, we've put together these 5 handy tips to help you get the most out of the event like a seasoned conference pro.
1. Get with the program
Have a good look at the speaker and presentation lineup before you head to the event. The reality is that you may not be able to get along to every session, so pick out your top choices so that you can prioritize these over anything else. Accountex offers a lot of choice from A to VAT.
How do you decide which to attend? Ask yourself a few key questions:
Which topics are the most relevant to where my practice is currently – or where we want to be?
Which topics will provide me with new insight into an area that I'm currently not so confident around?
Which topics will give me some takeaways that I'll be able to immediately implement in my own practice?
Having a clear idea of your objectives, and those of your colleagues or employees, before you head along will also help you determine where your time is best spent.
Are you heading along for business inspiration? To keep an eye on what others in the industry are up to? Or to upskill in a particular area?
Also consider the timing of the presentations. You may prefer to space out the talks that you attend, to give yourself time to have a break, to process the information you hear, and to make some action notes after each session.
2. Don't go it alone
Consider bringing along colleagues. With numbers, you can cover more ground, get around more exhibitor stands and connect with more contacts. It will also give you the opportunity to leverage different perspectives, so you can share and collaborate around ideas and inspiration when you get back to the office. Schedule in time to do this, and share with others who may not have been able to attend.
3. Examine the exhibitor list
Whatever your business goals, you'll likely find someone at Accountex who can help you achieve them. That's because there's a huge range of exhibitors in attendance ready to take you through their solution, and how it could work for your practice.
New technology and solutions are rapidly appearing on the market. Keeping up with these changes, and the benefits they can bring both to your practice, and to your clients' businesses, is what could set you apart from competitors. So whether you've already done some research, or you're just interested in seeing 'what's out there', the conference is a good time to connect with these solutions for a product run-through.
Again, it can be a little overwhelming when you first step into that exhibitor hall, wondering how you're going to get around everything (without missing lunch). Think about your own objectives, or common challenges that your clients are facing, and see if there are any particular providers that you'd like to spend some time with.
Conveniently, the exhibitor list is already available for you to check out. This means that you can check out their website, find out a little more about them and whether they're aligned with what you're after, then prioritize which stands you want to visit first. It can be worth reaching out to them before the event to schedule in a time to chat, as the stands do get busy, particularly during break times.
4. Take note
There is no doubt going to be a lot of information to take in over the two days. You'll be inspired, intrigued, and probably a little overwhelmed. With this impending whirlwind of ideas, it pays to go prepared to take some notes along the way. With your hands full from the exhibitor stand swag (quick tip: find a stand with a bag you can nab!), you'll want to keep your belongings light, so keep it digital when it comes to notetaking.
An app like OneNote is a convenient choice to have on your device for jotting down all those thoughts, insights and actions to take in your business. Its collaborative functionality is also perfect for sharing with colleagues — whether they're at the event or not — and will save you time when it comes to writing up any post-event reports.
5. Go ready to connect
Conferences are a great opportunity to grow your network and build your own presence in the industry. Don't be shy. Start conversations with others nearby, look for opportunities to collaborate, refer, partner, or learn. Take advantage of networking sessions, or see if any of your app partners are hosting breakout meetings or sessions. Connecting with others who work with similar industries or tools can be beneficial, and a collaborative industry mindset is good for everyone.
Some final tips: wear comfortable shoes (good for running between keynotes and nabbing those front row seats), get a good night's sleep before the event (unless you're having heaps of fun at pre-Accountex drinks), and pack a power strip (instead of being the villain who is hogging the outlet, be the hero who is multiplying the outlet).
Don't forget to have a flip through the What's on Guide before you leave home, and of course, schedule in a time to stop by and see Josh and Daniel from the SuiteFiles team on stand 1272 to chat about document management for your practice. See you there!