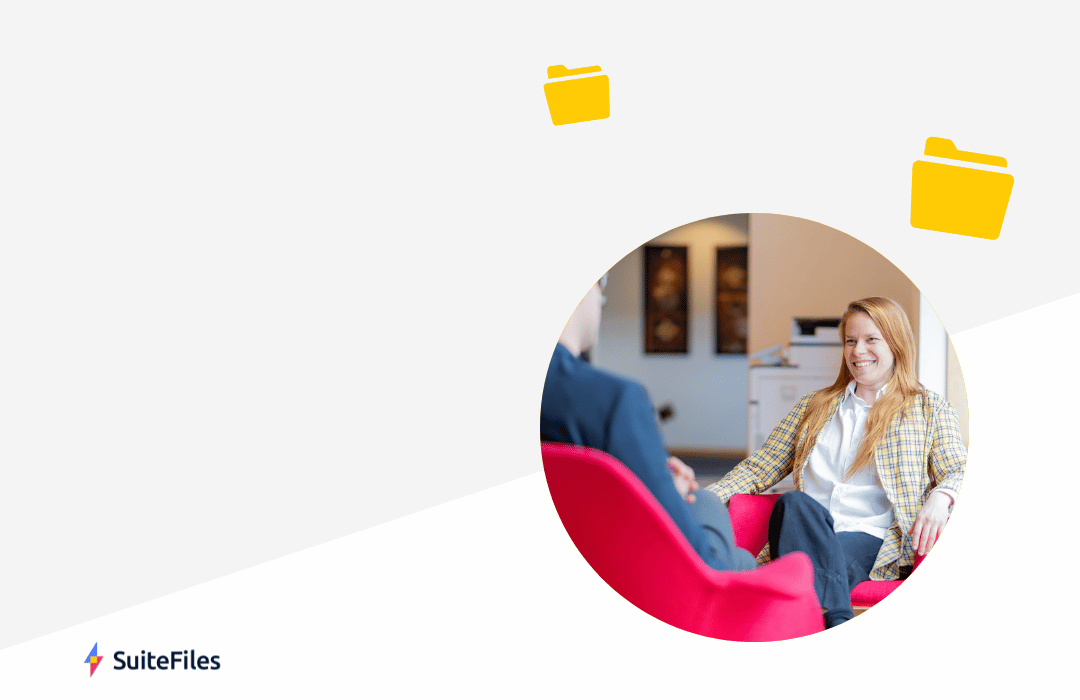 The battle for great talent. Making the most of limited resources. Preventing burnout. There's a staggering number of challenges facing accounting firms, and solutions come down to one thing: efficiency. Working smarter not harder isn't just a nice catch phrase. It can be your reality with the right document management system.
1. Time to focus on more important things
On an average day, how much time do you spend on the phone with clients asking for files, digging through your inbox looking for a document, or asking a coworker to forward you the updated version of a file? If you're like most accountants, the answer is "way too much." In fact, a recent study of U.S. accountants found that 69% spend too much time getting documents from clients. The struggle doesn't end there, though. A whopping 79% of respondents said they spend too much time searching for files within their firm.
Every minute you spend dealing with documents is a minute you can't spend discussing goals with your clients, keeping up with industry developments, and even hanging out with family and friends. With a document management system, it's easy for clients to upload everything you need, and files are always at your fingertips. Use the time you save to accomplish more — either in or out of the office.
2. A more seamless workday
There are tech tools that can help you prepare financial statements, analyze operational costs, ensure legal compliance, and so much more. Now, think for a moment what it would be like if all those tools were connected. Like the name implies, a document management system manages everything from document creation to sign-off. In between, everyone who needs access has it, including real-time document updates, so that it's easier to collaborate and get more done in your day.
To make all of this happen, the best document management systems have lots of integrations — like Microsoft 365, Xero Practice Manager, and Karbon — so you have the flexibility to use the tools you're already comfortable with, more efficiently than ever. Imagine how much faster you could cross things off your to-do list if you could import client data directly from Xero into a Word template that auto-populates, then send it out for signing, all without switching platforms.
3. Better client relationships
Clients don't want you to simply crunch numbers; they want a strategic partner. In late 2022, the AICPA's Economic Outlook Survey noted a fundamental shift in accountants' roles. Executives' pessimistic view towards the U.S. and global economy — a view that hasn't rebounded much, according to 2023's research — have created a desire for accountants that can act as "value partners" or "chief future officers" who can help plan for and mitigate little to no revenue growth.
One crucial way to do that is by offering a cutting-edge experience that eliminates complex, convoluted collaboration. The right document management system gives you (and them) the power to immediately stop wading through a sea of emails and phone calls so you can exchange files, insights, and signatures with the click of a mouse. Client needs are growing by leaps and bounds, and they'll applaud anything that makes their life easier. Not only is it a smarter way to do business that keeps clients loyal to you, but it's also an opportunity to prove you've got their back at a time when they need it most.
4. A (much) smaller risk of mistakes
We mentioned having one source of truth above, and to take it one step further, using a cloud-based document management system means having complete version control. Without it, it's easy for your team to accidentally make recommendations and decisions on outdated documents and records, or to have those out-of-date documents slip into official filings.
But the moment your document management system is up and running, everyone will have access to current documents, you'll be able to see which changes were made by whom along the way, and every file will be backed up automatically. In other words, you'll have an "audit trail" for every document so you can avoid system failures and business disruption that lead to (expensive and stressful) mistakes. You'll never accidentally submit an outdated document, lose important files, or have your team working in silos.
Make it easier for clients to do business with you
It's time to streamline your daily work with the technology your peers already count on. Get an action plan in our ebook, The Financial File Frustration Fix: A Blueprint for Getting Your Accounting Records Securely Under Control.